Submitted by kalyana on Thu, 25/04/2013 - 23:48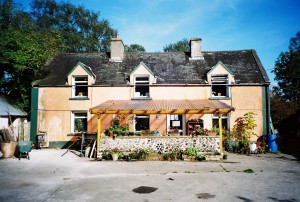 We are very happy to announce Diving Deeper: a one week programme at Sunrise Farm in Ireland. Formerly known as the Week Intensive, we are calling it a Spiritual Camp, a title that we felt reflected the nature of the event better.
Sunrise Farm is one of our dearest projects. It is a 38 acre eco-farm in the heart of rural Ireland run by Didi Ananda Prama. Sunrise Farm affords us a natural, healing environment, a bakery and organic vegetables. It is in the process of being transformed into an eco-sustainable community based on the principles of neo-humanism (care and attention of all plants and animals).
At the Spiritual Camp we want participants to have an unforgettable spiritual experience. We are designing the programme so that you may be able to immerse yourself fully in the practices, to expand your awareness of the philosophy that backs it, and to question, to discuss and to discover, to regenerate and heal yourself, and to enjoy spiritual company.
At the Camp we will practice postures (1hr), chanting (30min) and meditation (30min) twice a day, with an additional 15min each of chanting and meditation at lunch time. We will have workshops and classes every day on various subjects relating to the practical. The emphasis, we stress, is practice and experience. This will be the thread running throughout the programme that will tie everything together.
The Camp will also stretch our comfort zones gently, partly through the amount of spiritual practice, and partly through the modesty of the facilities, which for most us, afford less comfort than what we're used to. Practices that will be new for some of the participants, like early morning meditations, will be encouraged.
Additionally, we are programming trips to Mountshannon, the Holy Island and the Cliffs of Moher; ample free time; diverse evening programmes; activities related to organic food, the environment and PROUT; and more.
The event is aimed at people who are relatively new to Ananda Marga lifestyle, for people who have attended Introductory Weekends / Open Days / Courses and would like more. It is ultimately for people who already know that they like chanting, meditation and asanas.
We have 12 - 15 places available for participants.
Online registration available here:
http://www.anandamarga.co.uk/events/#registration
More Info
Flyer available here to view/download for more information
Retreats page
For further info call or email Subhra on 07874-355460 or subhra@jaijaijai.org.